The Gaylord Texan ICE 2023 theme will be "How the Grinch Stole Christmas." ICE!, the annual holiday tradition at Gaylord Hotels, returns November 10, 2023, through December 31, 2023. Using more than two million pounds – or 1,000 tons – of ice, the beloved holiday classic, 'How the Grinch Stole Christmas™' will be brought to life in ice sculpture form by a team of 40 world-class ice artisans from Harbin, China. Find Gaylord Texan ICE discount here.
The chilly walk-through attraction will feature 10 scenes from the iconic Dr. Seuss story, with characters like The Grinch, of course, as well as his dog Max, Cindy-Lou, and many festive Whos from Who-ville.
What to expect at Gaylord Texan ICE 2023
The creation of the Gaylord Texan's ICE! attraction is a monumental task that begins with over 6,000 hefty blocks of ice. A team of skilled artisans dedicates approximately six weeks – amounting to over 12,000 man-hours – to transform these blocks into a nearly 17,000-square-foot frozen spectacle. These craftsmen utilize techniques passed down through generations and adhere to a detailed 300-page design book to bring the vivid scenes to life. The resulting ice carvings are a testament to their expertise, with intricate details as small as a coin to grand scenes towering over 30 feet.
To preserve the integrity of these elaborate sculptures, the venue employs a state-of-the-art chilling system that maintains the area at a frosty nine degrees Fahrenheit. Visitors are provided with Gaylord's signature blue parkas, complimentary with their visit, to keep warm in the chilly environment. It's also recommended that guests come prepared in their own cold-weather attire to ensure a comfortable and enjoyable experience.
The carvers will travel nearly 6,000 miles from their homes in Harbin, China, to Grapevine, TX. Known as "Ice City," Harbin is home to the world's largest annual ice and snow sculpting festival in the world. At Gaylord Texan, some of the same artisans who create the Harbin festival will carve 300-pound blocks of ice into the larger-than-life, whimsical scenes. Carvers will use chisels, chippers, tongs, handsaws, grinders, and even chainsaws to bring "How the Grinch Stole Christmas" to life.
In addition to the amazing ice sculptures from the fan-favorite Christmas book, guests can also take rides down the two-story-tall ice slides and traverse through ice tunnels and arches. The ICE! experience concludes in a separate area dedicated to the Nativity scene, meticulously carved, and shaped in a display of crystal-clear ice.
2023 Gaylord Texan Lone Star Christmas Features
ICE! is only one of the festive events taking place during Gaylord Texan's 20th annual Lone Star Christmas. Additional activities will include:
On The Blocks
Chill out at On the Blocks, the exclusive bar inside ICE!. Adults 21+ can upgrade their ICE! experience to enjoy one select beverage sampling. Ambient lighting, music, and fun photo opportunities set the mood for this unique VIP experience.
Snow Flow Mountain
Experience our eight-lane tubing hill, covered in real snow and designed to bring thrilling fun for all ages. Zoom down the lanes, race to the bottom, and enjoy unlimited runs on your ticket date.
Ice Skating
Enjoy a festive, perfect day or evening by taking a yuletide glide on our 6,000-square-foot skating rink made with real ice.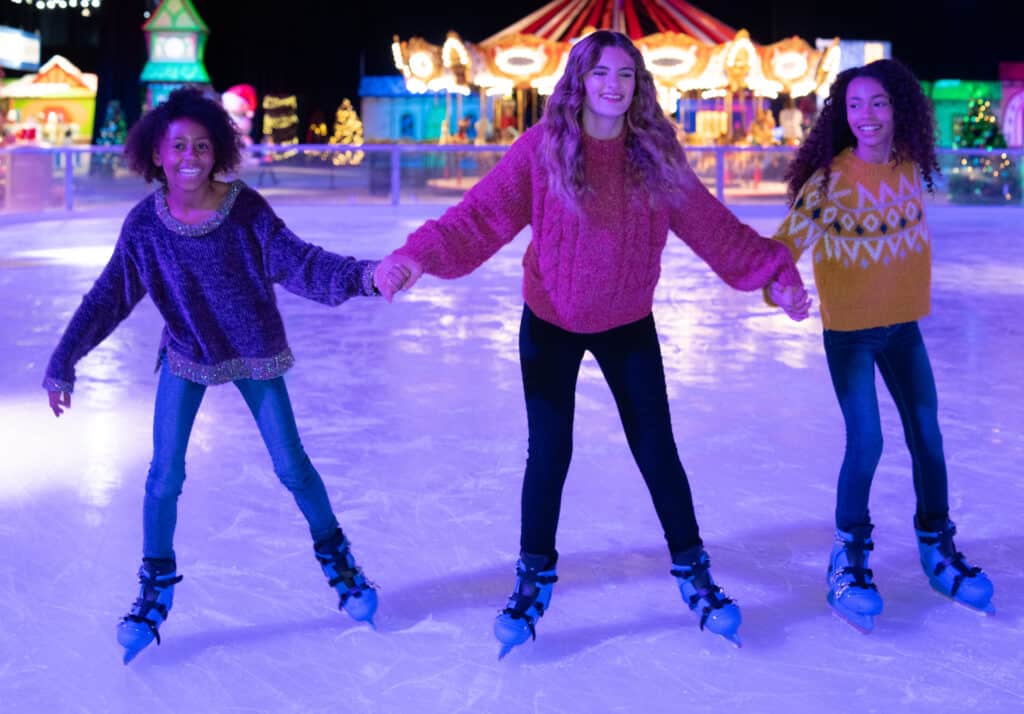 Cirque: Spirit of Christmas
This Cirque-styled Christmas show features dazzling acrobatics, feats of flexibility, and high-flying stunts. This Broadway-style spectacle centers around Noel, a child dismayed and distressed by the hustle and bustle of the holidays. Trying to recapture her lost love of the season, she is visited by spirits who bring back the true meaning of the season in energetic, dreamlike chapters.
Snowball Build & Blast
Real snowballs in Texas? With a little Christmas magic, you'll receive a tub of snow so you can build and toss real snowballs to boost the power of the snowmaking machines. Take your best aim at the targets and let the snowballs fly!
Gingerbread Decorating Corner
Don't wait – make a date to decorate! Let your Christmas creativity run wild when you adorn tasty gingerbread. After you've reached confection perfection with your edible art, head over for a sweet meet and greet with Nutmeg, our very own gingerbread man.
Feast with The Grinch Character Breakfast
Join everyone's favorite green and grouchy Grinch from the famous Dr. Seuss book and animated featurette, How The Grinch Stole Christmas! ™️, for a special character dining experience at Texan Station. And while the Grinch usually avoids the residents of Who-ville, he'll make a very special appearance at the breakfast, accompanied by his canine companion, Max.
The Grinch's Wonderful Awful Idea Scavenger Hunt
Known for his disdain of Christmas and the happiness it brings, all around the resort the Grinch has hidden clues of his mischievous plan to ruin the holiday. Find all the clues and solve the riddles to help save the joy of the season! Complete the quest and you'll receive a special stocking stuffer.
Build-A-Bear Workshop
Build-A-Bear® has been adding a little more heart to life for more than 25 years! Visit Build-A-Bear Workshop® to experience the fun of personalizing furry friends and taking part in our one-of-a-kind Heart Ceremony. Add adorable outfits, sweet scents, and fun sounds to make any furry friend the perfect gift or a cuddly Christmas keepsake!
#LIT Light Show
Our spectacular Lone Star Atrium comes to life with our #LIT Light Show, featuring thousands of dancing lights synchronized to a high-energy, seasonal soundtrack. Animated light curtains glow with Christmas imagery around a centerpiece tree that magically transforms into a gleaming and glowing holiday spectacle. Presented by Chase Marriott Bonvoy.
Photos with Santa
Mailing a letter to the North Pole is great, but nothing can beat a personal visit with Santa Claus to let him know what you want for Christmas and make sure you're on his nice list. Capture the moment with a keepsake photo.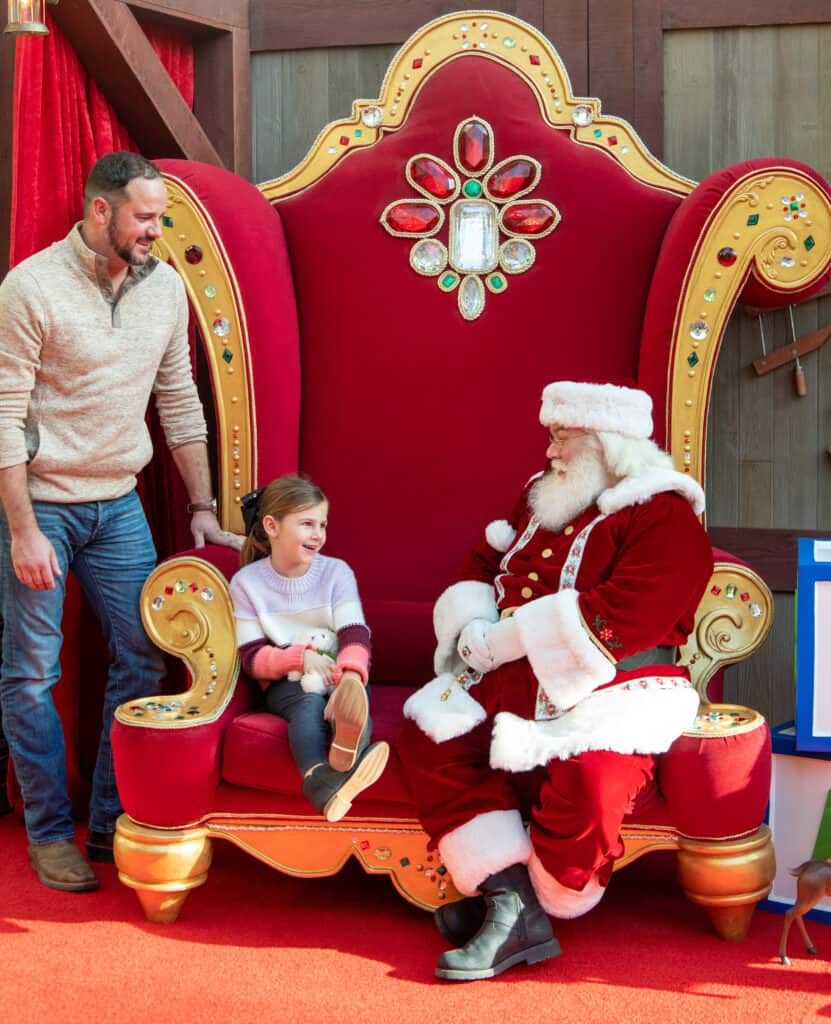 Christmas Carousel
Get in the holiday spirit by taking a spin on this timeless, family-friendly ride. Enjoy endless fun with an unlimited ride ticket!
Elf Training Academy
We all envy Santa's elves: they have a great boss, eat tasty treats and sweets whenever they want, and can make their own Christmas gifts! Your opportunity to join Santa's staff awaits at the Elf Workshop. You will learn the secrets of becoming one of Santa's helpers from his top toy maker and create a keepsake gift or craft for someone special.
Mrs. Claus' Christmas Traditions
Join the jolliest hostess of all for a fun-filled celebration of Christmas traditions. Delight in the retelling of the Christmas classic, "' Twas The Night Before Christmas," sing along to favorite holiday songs, and share a batch of Santa's favorite snack – warm, freshly baked Christmas cookies and ice-cold milk.
Holiday Heist Escape Room
The Holiday Heister has struck again, this time stealing an essential Christmas artifact from the North Pole. The magic of Christmas is threatened if the artifact isn't returned to its rightful place. Save Christmas before time runs out!
In addition to the events and activities, awe-inspiring holiday décor dazzles resort visitors throughout the four-and-a-half acres of indoor gardens under glass. The decor includes over two million twinkling lights, a 54-foot-tall Christmas tree, 15,000 ornaments, 20-foot-tall toy soldiers, magical miniature train sets, and so much more.
Additionally, brand new this year, the resort will feature enhanced décor throughout the massive property including luminaries lighting up The Alamo, colorful holiday floral displays, glowing lanterns, and a Christmas Tree Trail featuring spectacularly decorated Christmas trees with different themes to make magical backdrops for family photos. The unique trees will include a Postcard Tree, Cowboy Christmas Tree, Lone Star State Tree, and Wine & Hops Tree.
Overnight guests will enjoy exclusive perks including:
"Chill Pass" privileges to ICE! offering front-of-line access and shorter wait times. "Chill Pass" is free for eligible guests. Guests need to purchase attraction tickets separately and in advance.
An invitation to "Extra Cool Hour," which provides early entry into ICE! and Mistletoe Village one hour before it opens for day guests. Guests need to purchase attraction tickets separately and in advance.
Gaylord Texan Christmas Packages
This year, Gaylord Texan is unveiling Christmas packages that offer special room rates and admission to select events. We encourage guests to secure their experiences early because all ticketed events require advance online reservations. Please note that many experiences have a limited number of tickets available. For tickets, more information, or to book an overnight stay, guests may visit ChristmasatGaylordTexan.com.
2023 Gaylord Texan ICE! Discount Code
Coming soon! Check back here to save money on ICE!